Your new 'Original Josh Gosling' oak chopping board will look stunning in your kitchen and we know you're going to want to keep it that way.
Here's a few tips on how to care for your hand crafted oak chopping board.
To prolong the health and life of your board it's important you keep it clean and regularly maintained.
Wooden cutting boards need to be kept clean and daily maintenance of a good scrub with hot soapy water after using is recommended. Do NOT soak your board in water or it will crack and warp! Do NOT put in dishwasher.
Treat your boards to a regular oiling to help maintain the surface and keep it from drying out, from once a month for regular use to a couple of times a year for infrequent use. All our boards are pre-treated with mineral oil which also offers anti-bacterial defence.
HOW TO OIL AND MAINTAIN YOUR BOARD
What you need:
Clean, soft cloth or paper towel.
Mineral Oil.
Instructions:
Clean the wood: You want your cutting board to be as clean as possible and thoroughly dry. You can use half a lemon and coarse salt, then wipe it clean. Alternatively, washing up liquid, warm water and a soft scouring pad are also fine. Let it dry thoroughly.
Apply the oil: Using a clean, soft cloth or paper towel, apply the oil in an even layer over the wood.
Let it soak in: Leave the oil to soak in, overnight if possible, or for at least a few hours.
Remove the excess: Using a dry, clean cloth or paper towel, buff off any remaining oil so that the board does not feel damp or sticky.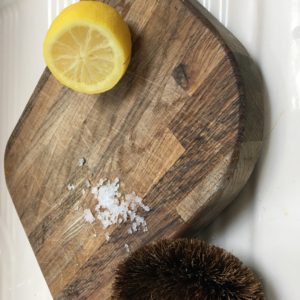 Handcrafted in our independent workshop in Cornwall, these chopping boards are of the highest quality and available in three sizes;
Small; 25cm x 20.5cm x 4cm, 
Medium; 31.5cm x 26cm x 4cm, 
Large; 45cm x 31.5cm x 4cm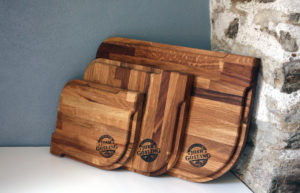 About Josh Gosling Original – Unique hand crafted furniture and homeware.
At Josh Gosling we create contemporary products, gifts and furniture for your home. We believe that the small details matter, we focus our detailed design and development into individual wood and metal products that work for you.
We also offer a bespoke design service. Have an idea, but can't find it on the high street? Why not ask us to create it? Whether you desire a piece of made-to-measure furniture to a unique shelving system, we can create it.
Please message us at goslingandgosling@zoho.com