We're all lost without our smart devices these days, and the kitchen is no different. It's not uncommon to find me struggling to view a recipe on my smartphone or iPad while trying not to drop it in the ingredients, or ingredients on it. So why not try a Wooden iPad Stand for your Kitchen?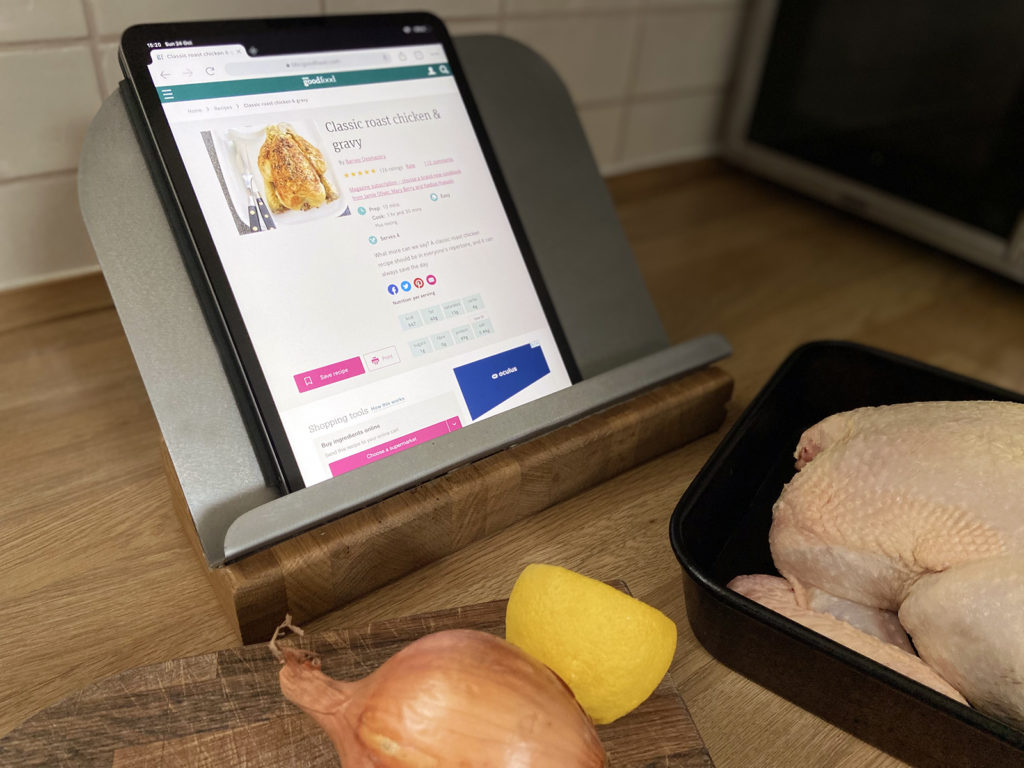 Here's what we believe to be a beautiful solution. Our Oak and Steel Recipe Stand for Cookbooks.
So, what's so clever about our Wooden iPad Stand for your Kitchen? Ours isn't just wood, it's hand finished with raw steel. We know the Apple iPad has magnets in it. This means our unique kitchen iPad tablet stand will hold your iPad in place due to the metal back. If you're trying to quickly tap, or type with one hand while cooking, you can be sure the iPad won't move or slip. Genius.
(It holds everything iPad Air, iPad Pro, smartphones and other tablets.)
If you're trying to roast the perfect chicken, or elbow deep in cookie dough. We think you'll wonder how you ever survived in the kitchen without you Oak and Steel recipe Book Stand. It's ideal if you prefer to cook-along to a video for your recipe inspiration. Or if you just like watching YouTube or the TV while cooking this will allow you to do just that.
Dimensions: 30cm (W) x 18.5cm (H) x 18.5cm (D)
Already thinking about Christmas presents? Don't miss out on ordering our handcrafted Oak and Steel Recipe Stand for Cookbooks, as a gift for a foodie this Christmas. It's also a great gift for stylish techies. We deliver via courier so you can rest assured the delivery will be prompt and tracked.
This wooden and metal iPad stand is the perfect compliment to our matching Oak Butchers Block Chopping Boards. Make cooking a dream in your kitchen.
Follow us on Instagram: goslingandgosling