Olia Hercules Pot Roast Chicken
I've been desperate to try this recipe for a while, and having now done it, I'm not sure why I haven't made it sooner. It's incredibly easy, and unbelievably tasty! I will confess right now before you get too far into this article, it smelled so good when it was ready I completely forgot to take any photos because we were so excited about trying it!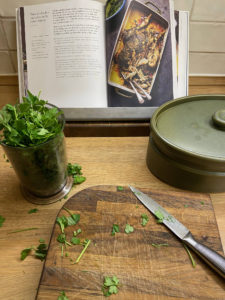 This recipe comes from the fabulous 'Summer Kitchens' by Olia Hercules. Don't be distracted by the name, it's not just summer recipes as this scrumptious pot roast goes to show.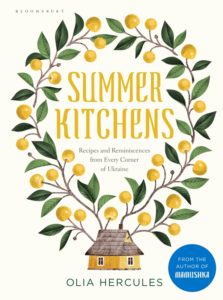 So, this really is a simple recipe, and the tastiest chicken you'll ever serve in my humble opinion.
As with all meat, I recommend (as does Olia) getting it out of the fridge a couple of hours before to let it get to room temperature before cooking.
All you need to do is grab a generous bunch of fresh herbs, such as parsley and dill (at least 25g). Pop them into a blender with 150-200ml of creme fresh with four cloves of crushed garlic.
Whizz it all together, then rub it all over the chicken inside and out. You can leave it to marinade for a couple of hours or overnight in the fridge. If like me, you didn't read the recipe carefully when you started, you can put it straight in the oven. I used my trusty Le Creuset casserole dish (after trying it in my little Wedgewood pot, but worried it would have been too small, in hindsight it would have been fine!) You can also use a roasting tin with tinfoil over the top.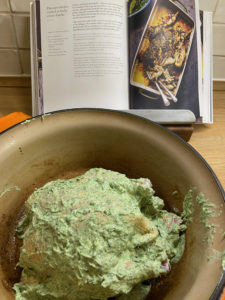 You can find the whole recipe here.
I am genuinely sorry I don't have a photo of the finished dish, but you can find some gorgeous food photography including this dish in her Summer Kitchens book. Which I think would make a great Christmas present alongside our hand crafted Oak and Steel Recipe Book Stand.
So, what was the verdict in our house. 'Simply amazing.' It is now going to be one of our go-to recipes, even mid week because it was so easy. We popped some par-boiled potatoes in a roasting tray as well as some carrots and cabbage for a low stress tasty dinner. You don't even have to make gravy because the roasting juices are so goooooood just poured on the meat as they are.